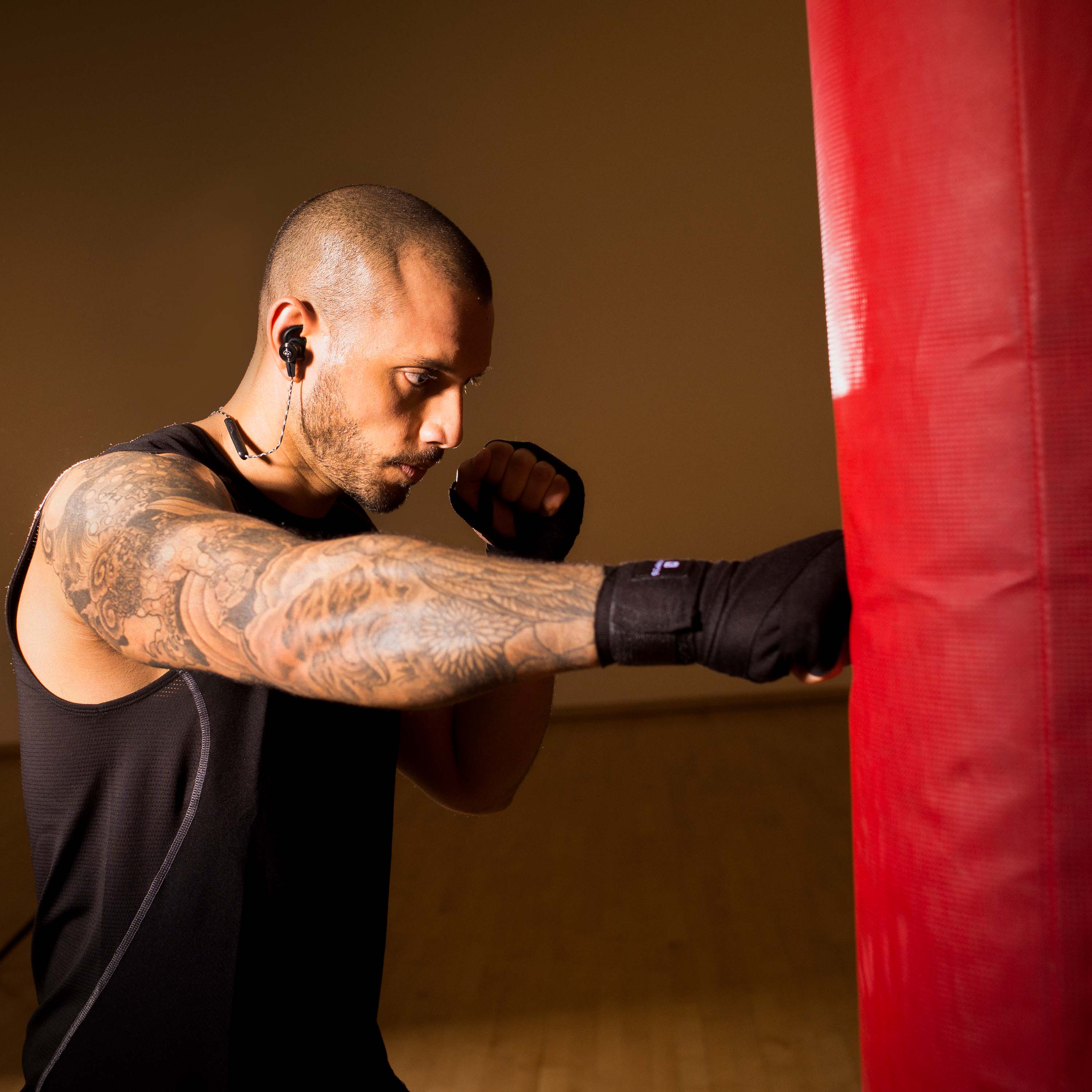 Evolving Sports Audio
The third incarnation of the iSport Victory builds on all the years of experience Monster has in sports audio to give you the premium in-ear headphone in the iSport line up. With a wealth of features designed to complement your training regime and keep you motivated, Victory continues to be a firm favourite among fitness fans.
Discover Victory now!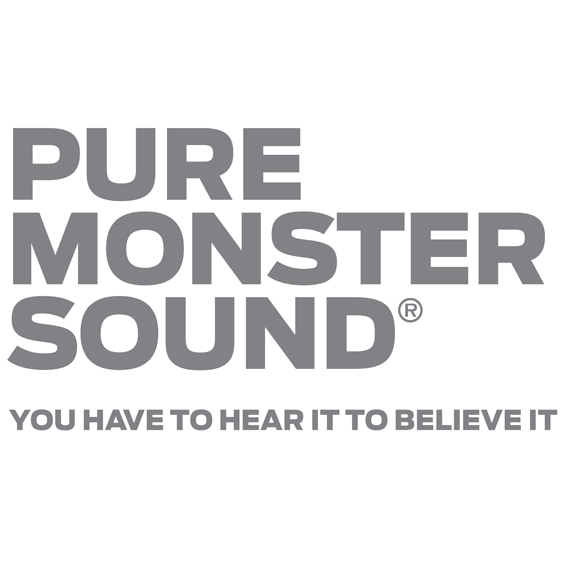 Pure Monster Sound
Music is proven to increase athletic performance by up to 15%, whether it's your first trip to the gym or you're a seasoned athlete. Monster's signature ingredient for iSport delivers crystal clear details, with pumping bass to keep you motivated through your training.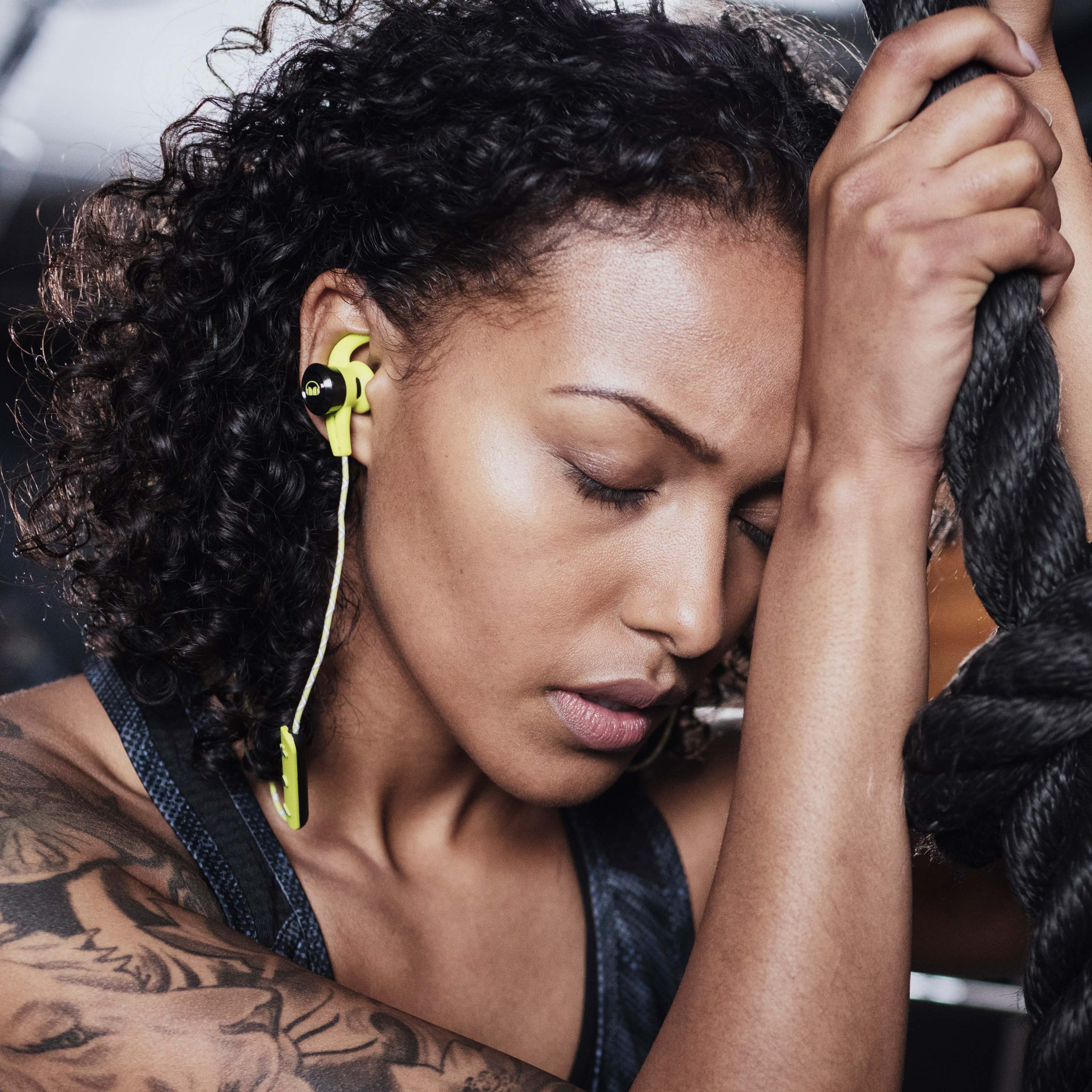 High Noise Isolation
The secure fit of the iSport Victory gives you 90% noise isolation. A higher level of noise isolation means you won't be distracted by noises around you, allowing you to focus all your attention on your personal goals. At Monster we take your training safety extremely seriously and would recommend using the Victory in a safe environment.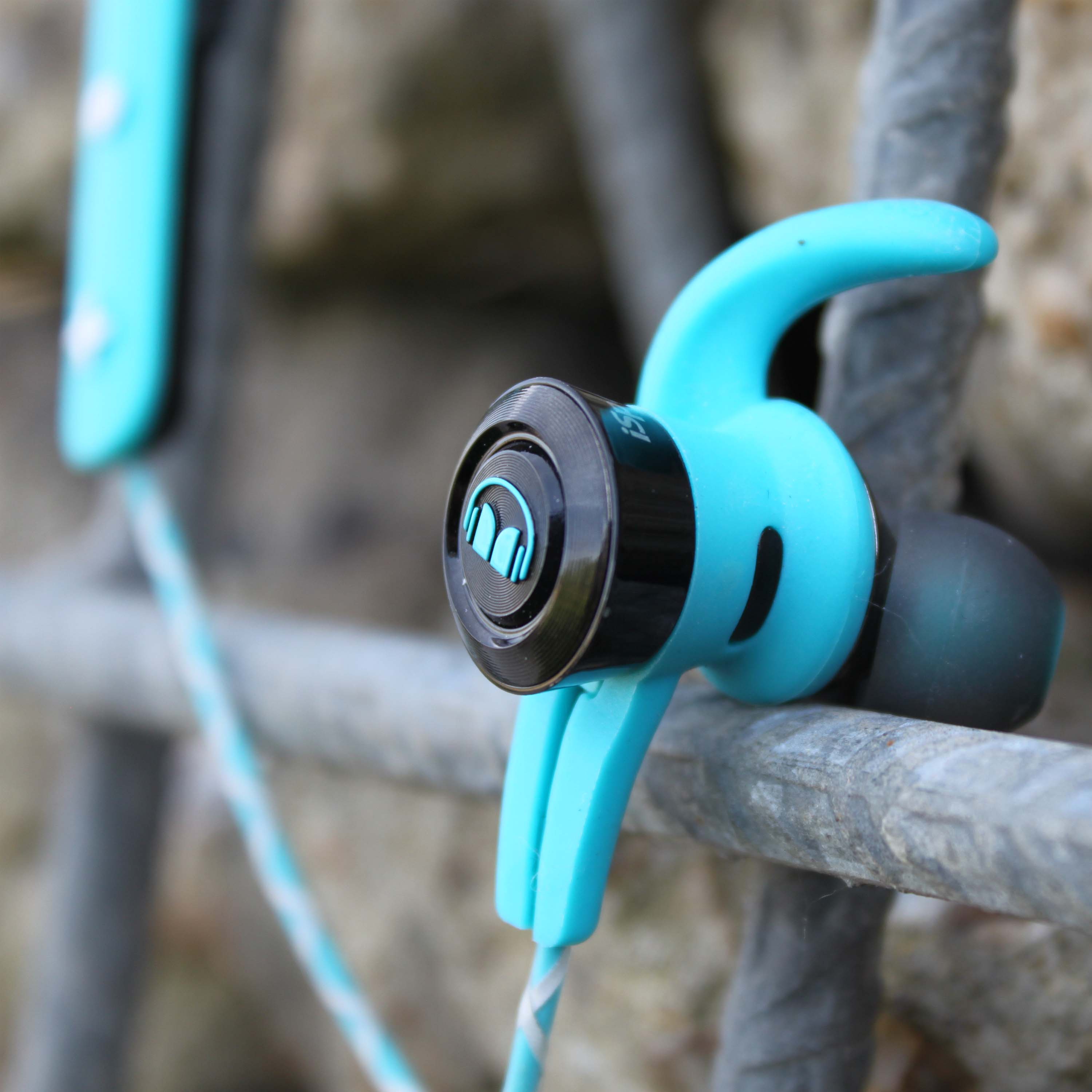 Durable and sweat-proof
Everyone sweats while working out, and the salts and minerals in sweat can damage sensitive electronics like headphones. The Victory is fully sweat proof and has an IPX 5 rating. The earbuds and sport clips can be rinsed or wiped after use and are resistant to microbial build up, and the control talk is sealed tight and has a cover for the Micro USB charge input.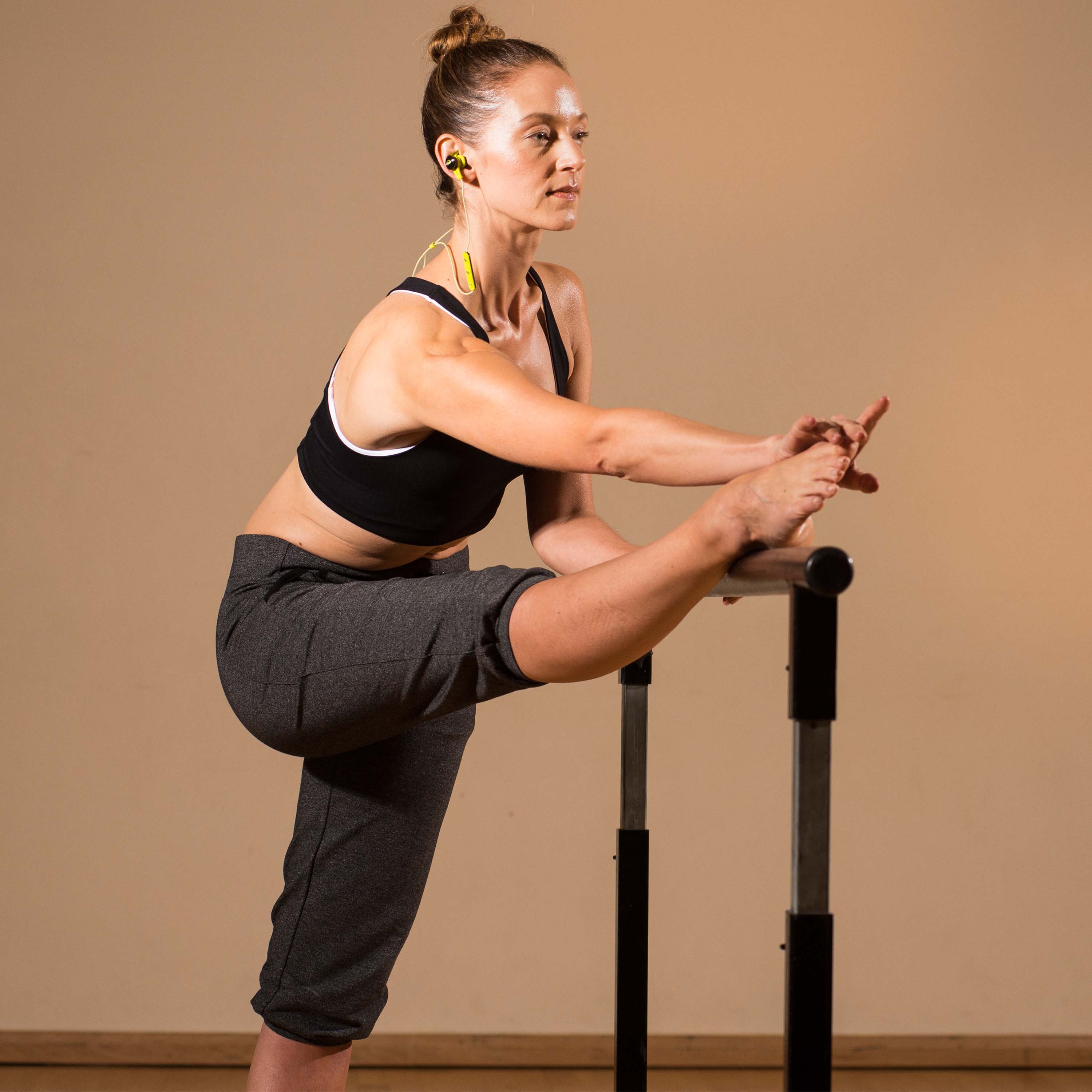 Bluetooth connectivity
Worrying about where your headphone cable is while doing your chosen activity has been a problem with sports headphones for years. Untethering yourself from your device gives your body the ability to move freely, and you're less likely to damage your equipment or yourself! Victory has Bluetooth 4.0 with apt-X to deliver your music at the highest possible quality. This is wireless that sounds as good as wired.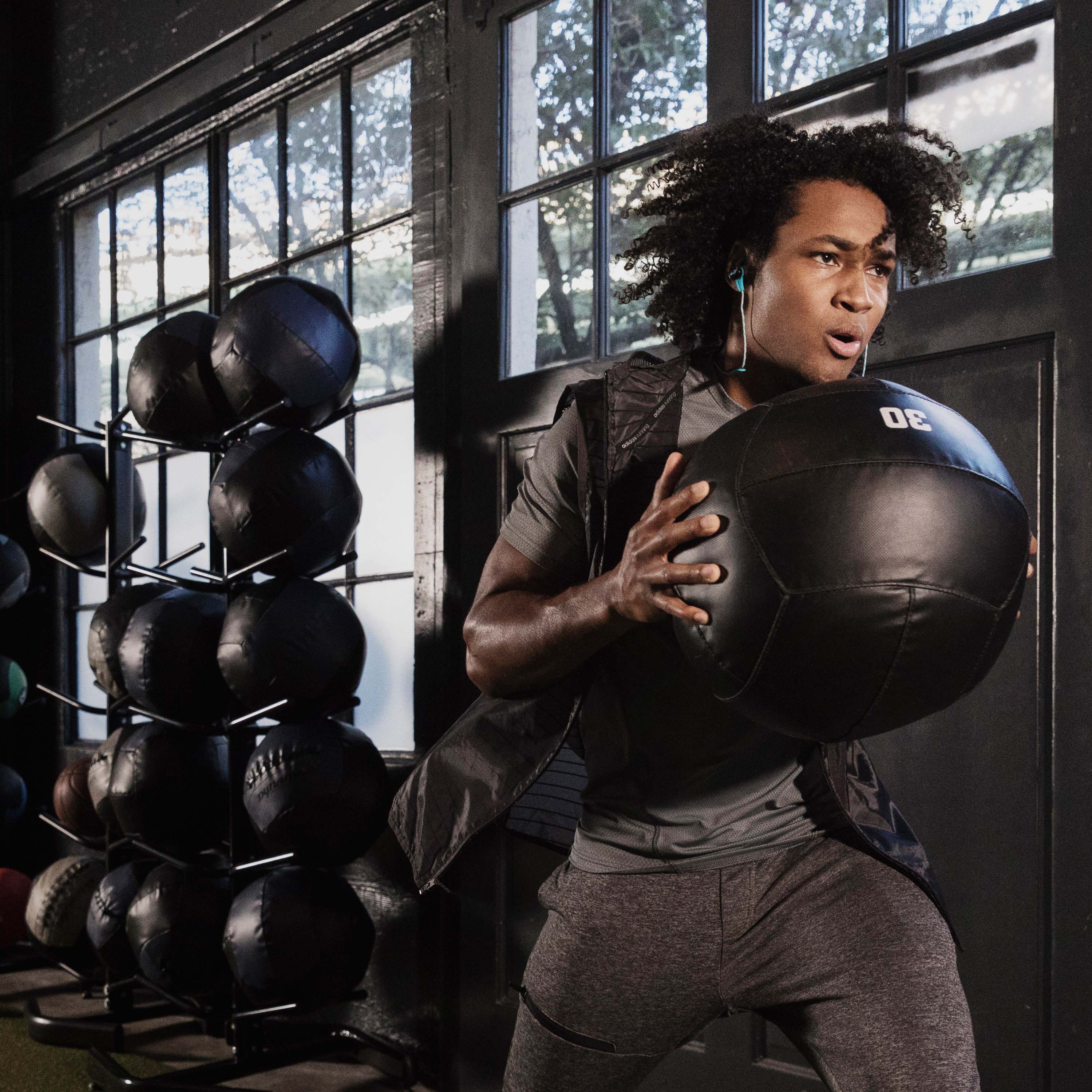 8-hour+ battery life
Battery life is one of the top considerations for a pair of wireless headphones – if it's not long enough, the headphones spend more time on charge than in your ears. Victory gives more than 8 hours from the integrated rechargeable batteries, so you can use them on the commute as well as in the gym.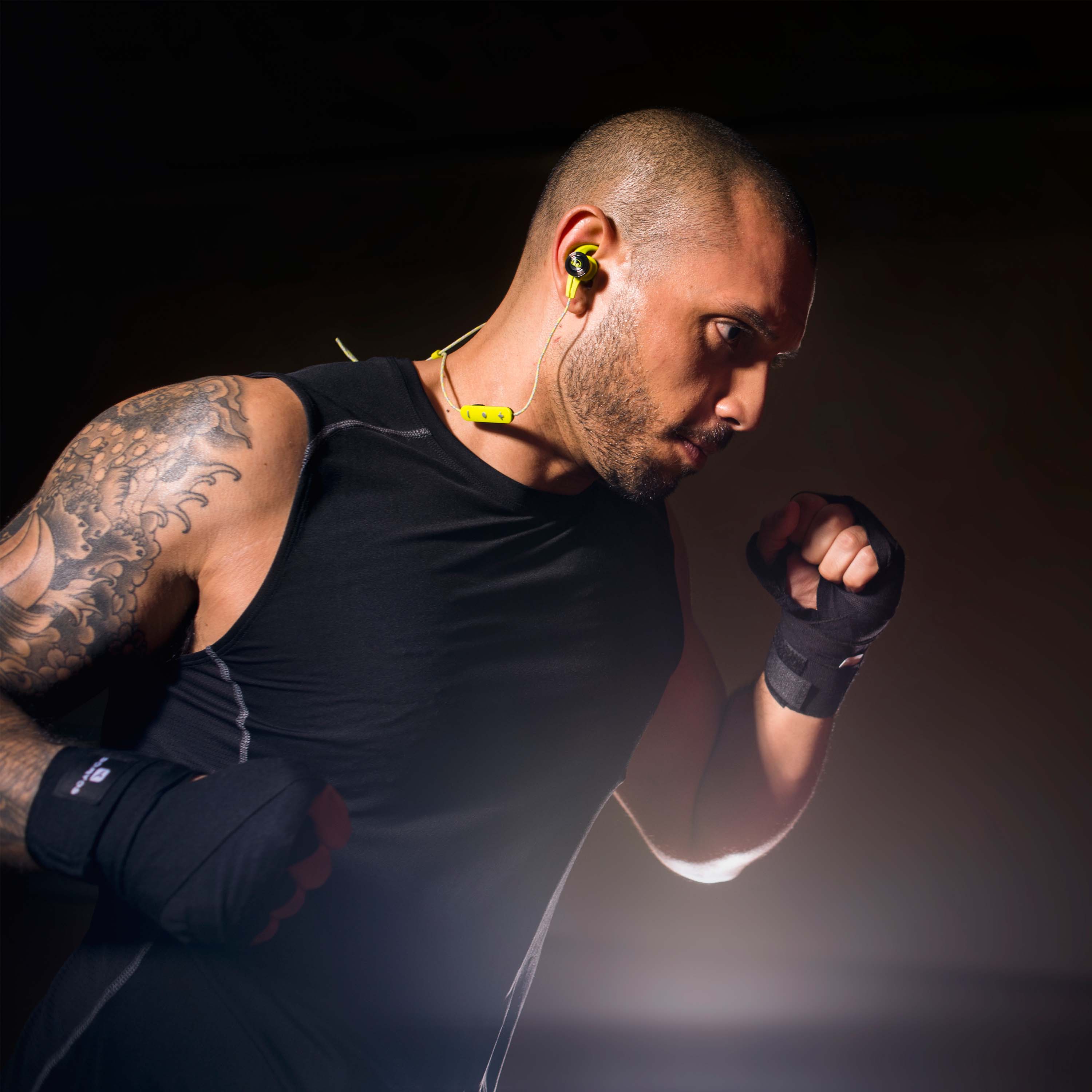 Stays In Your Ear
There's no doubt about it – when you're doing an activity where you have to move a lot, headphones don't stay in place. Victory aims to address this number one complaint with sports headphones by not only giving you 5 different sizes of in-ear tips, but also 3 sizes of our patented Sport Clips. Great sound needs a great fitting headphone, so follow our in-box fit guide to help keep that bass locked in and the 'phones in your ear throughout your training.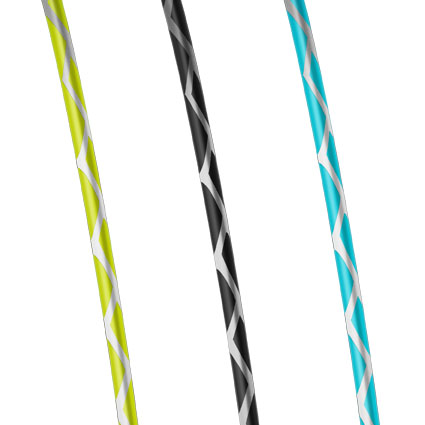 Reflective, lightweight cable
Victory's unique twisted cable has a reflective strip wound into it. By employing the same materials as used in high-visibility clothing, when you're out and about in low-light conditions it might just help you be that little bit more visible. Not only that, it's extremely lightweight and has a low surface area so it doesn't get caught in clothing or rub uncomfortably. Use the included cable clip to keep any excess length out of your way.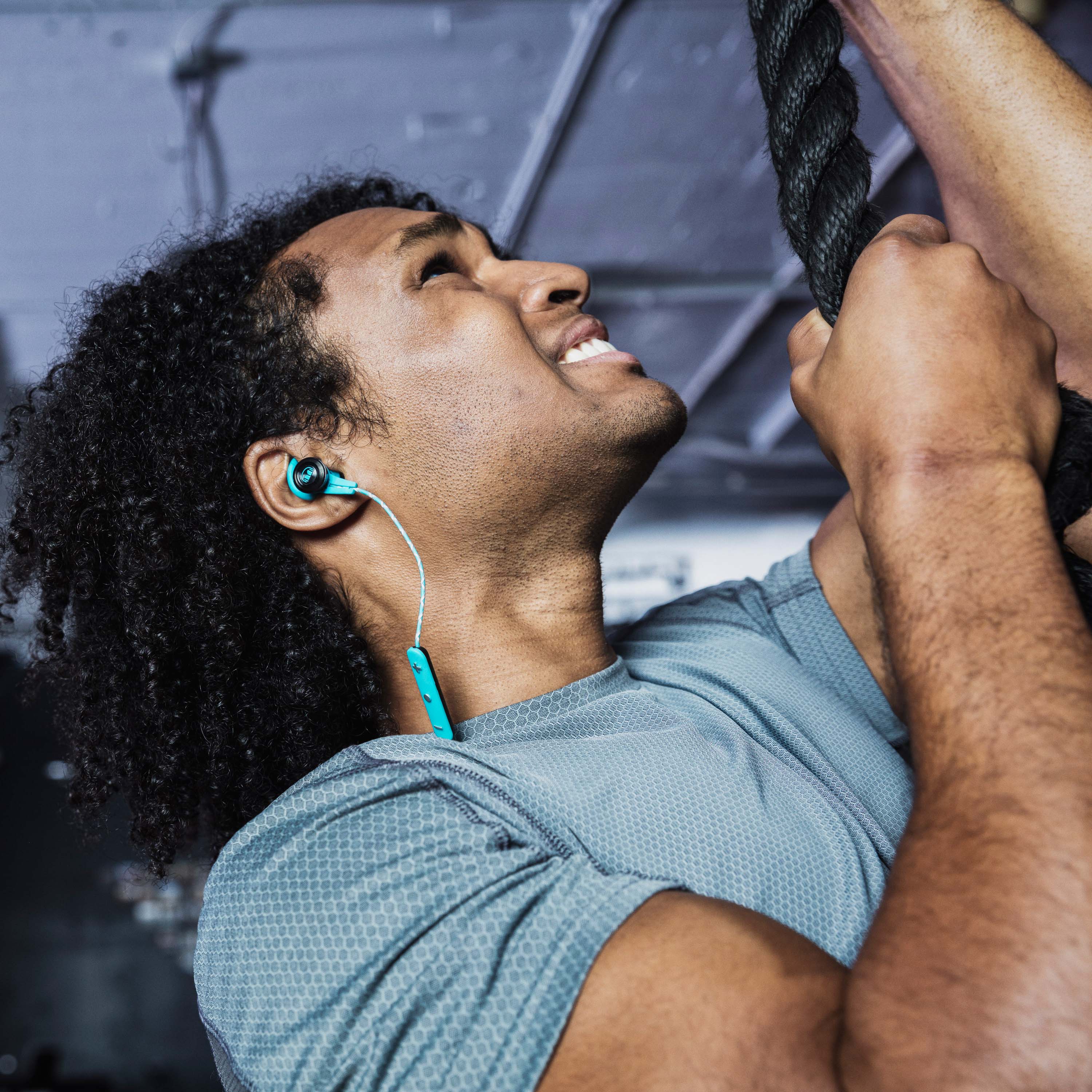 2 sound profiles
We understand that sometimes you won't use your sports headphones to train, so we've included two sound profiles with the Victory – Normal and Turbo. Bass-driven music is known to be a motivator for lots of different exercise and training regimes, as well as a big component of faster music at the 130/140 bpm level that's known to be a perfect accompaniment to running or faster types of exercise. So Turbo mode kicks up the bass and retunes the mids and highs to give your music, and your motivation, more attack.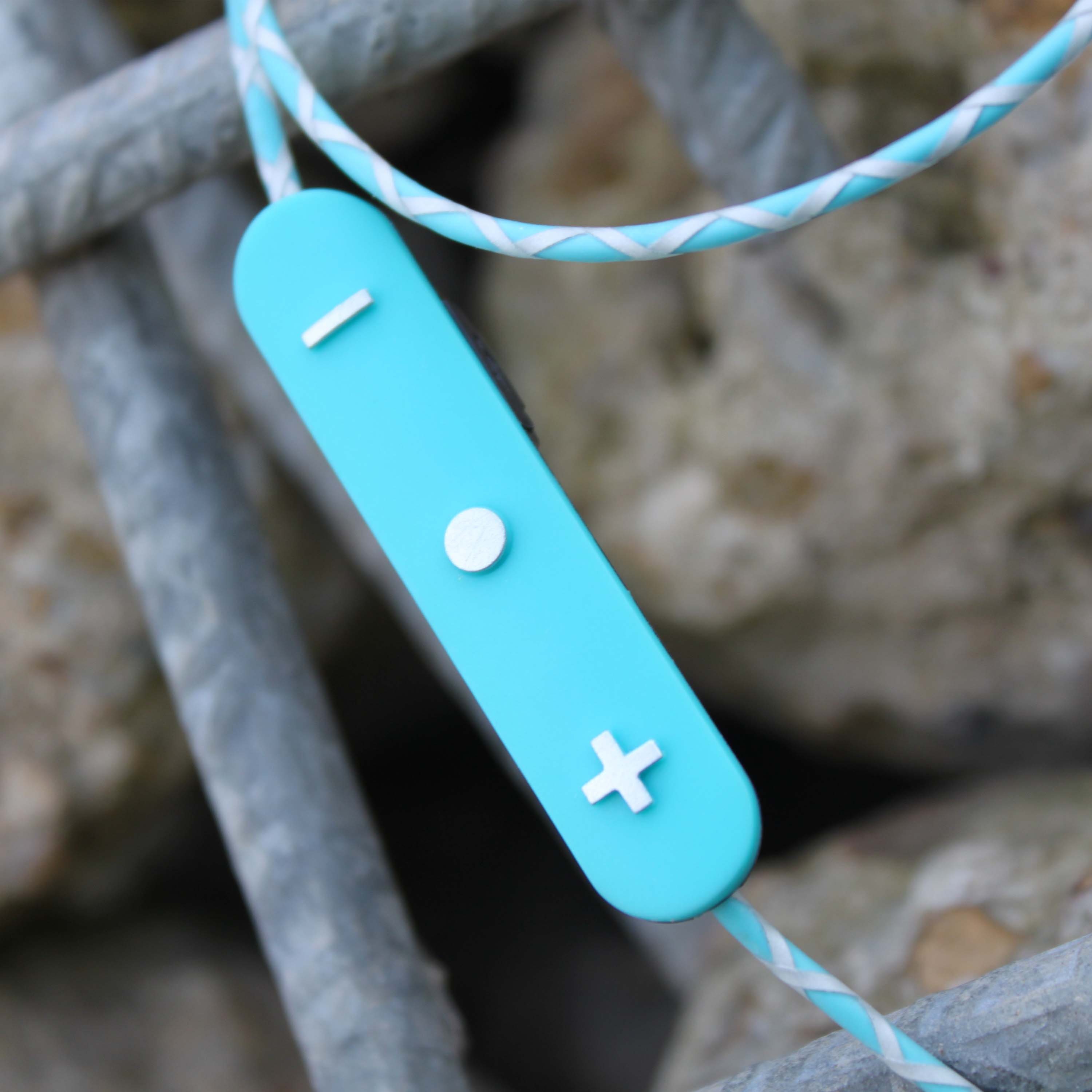 Universal ControlTalk
iSport Victory isn't just for sport. We include a universal ControlTalk in-line remote so you can make and receive calls as well as control your music. Why? Because we understand you want a headphone that can be your companion at work, at home and on the commute as well as in the gym.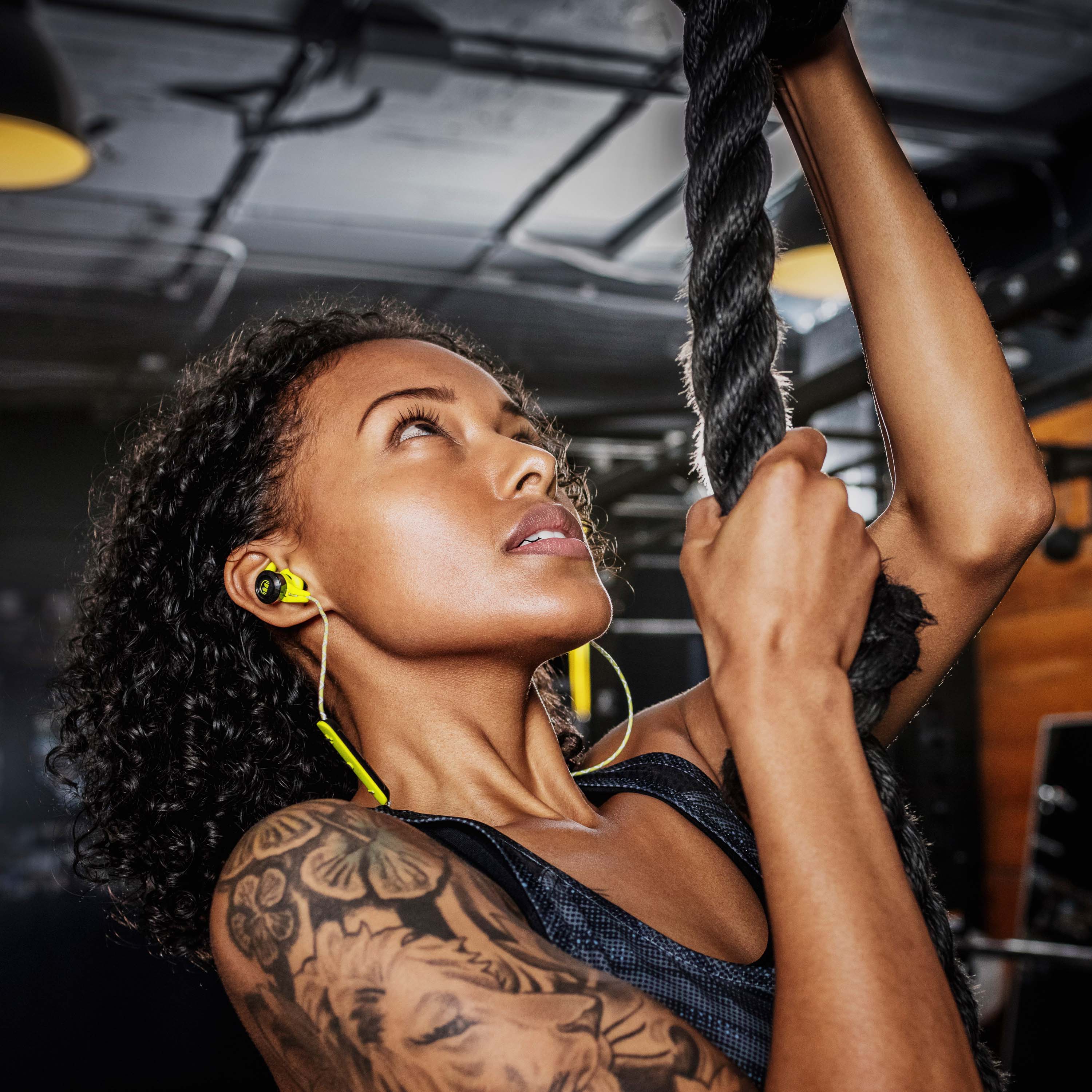 Easy to Store and Use
One of the biggest frustrations with in-ear headphones is when you take them out of your bag and have to spend time untangling the cable. Not only are these headphones wireless, meaning less cable anyway, but we've still made it tangle-resistant. We've also included a soft carry case to keep them separate from the rest of your equipment. Because you're there to train, right?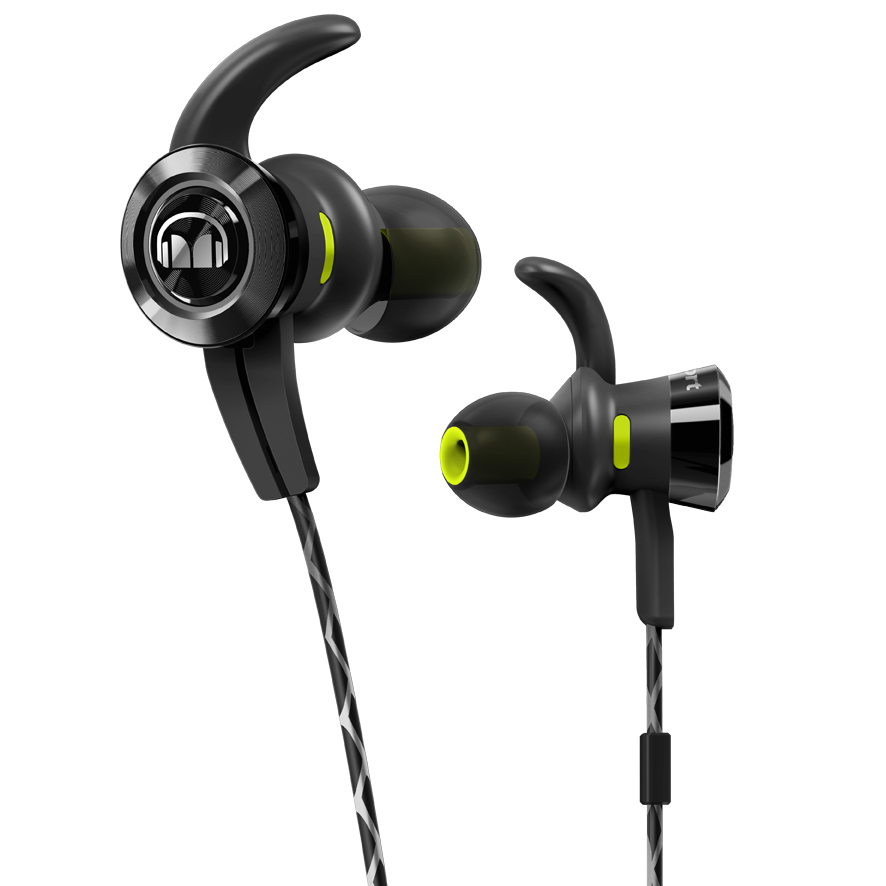 Specification Summary
Pure Monster Sound
Sweat-proof and durable
Bluetooth 4.0 with apt-X
8+ hour battery life
Universal ControlTalk
Built-in microphone for calls
2 sound profiles - Normal and Turbo
Multiple fit options
Reflective cable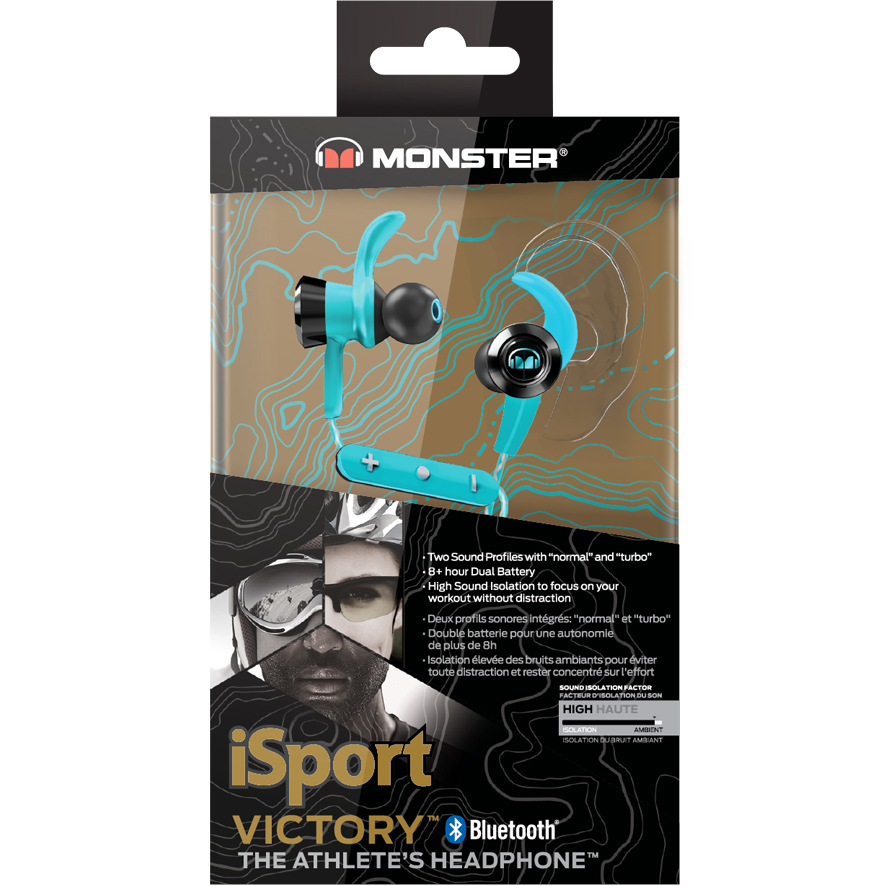 What's In The Box?
Victory Headphones
Micro USB cable
Soft Carry Pouch
5 Sets of In-Ear Tips
3 Sets of In-Ear Sport Clips
iSport Fitting Guide
Quick Start Guide
Warranty Information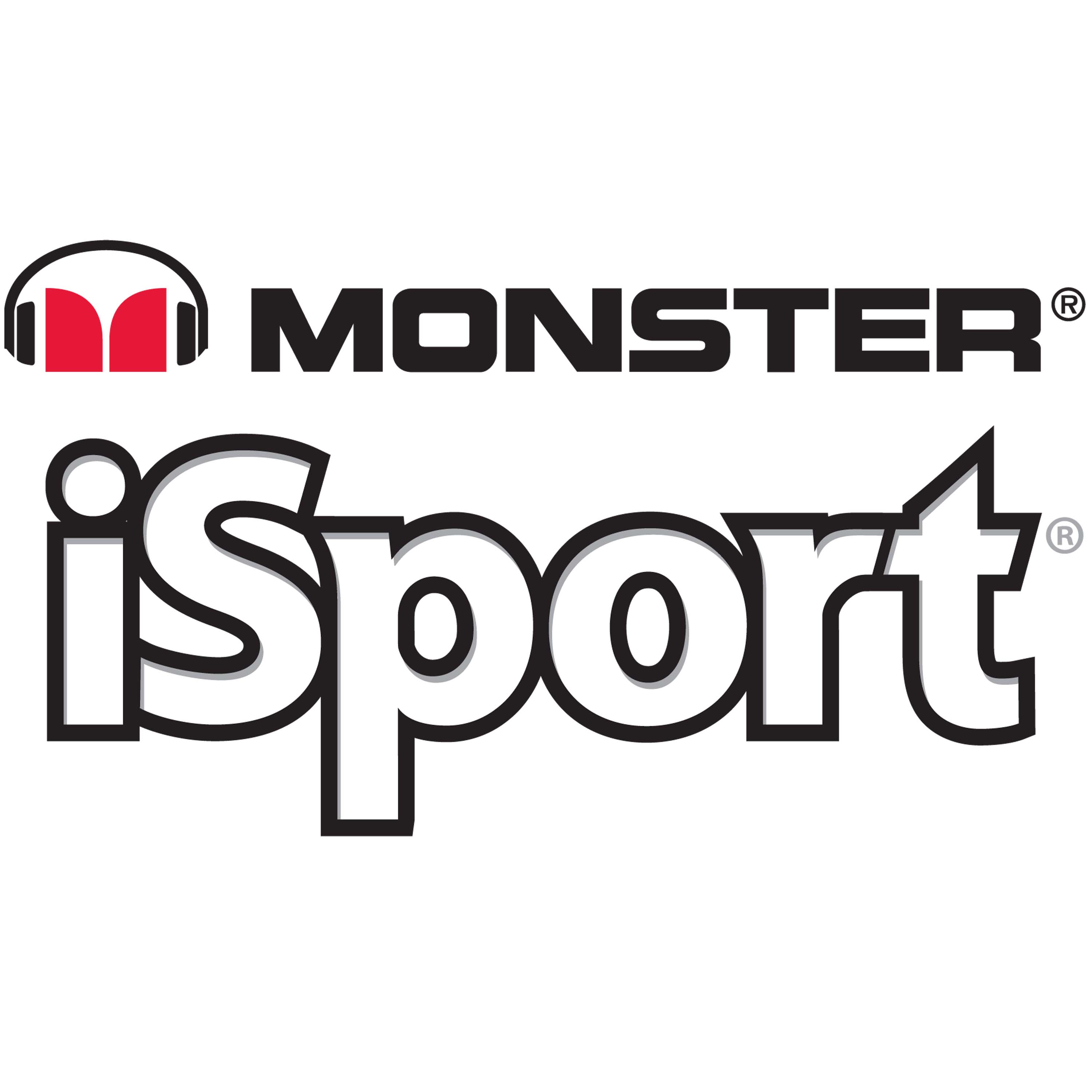 The Heritage of iSport
Monster has been setting the standard in Sports audio since 2011 when we launched the revolutionary Immersion headphone. Today, iSport headphones provide the best possible combination of audio performance and modern technology to help motivate you to train at your best on any budget. Monster's ongoing philosophy with the iSport line is to provide the right sport headphones for YOU and your active lifestyle.

Discover the complete iSport family.